USING MY CARTOONS ON YOUR BLOG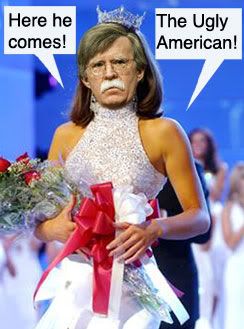 By Elaine Meinel Supkis
Readers of my blog know I put up all sorts of cartoons and artwork which I created. One of the posters here claimed he created this cartoon. He even put it on his own photo service. I checked to see.
Taking someone's artwork without giving their URL is not a good idea. Claiming to be the creator is really dumb, to say the least. Especially when the cartoon bears all my artistic "fingerprints" all over it. The way I do the balloons, the things people say in my cartoons and the choices and the skill of the blending of the figures is all my style.
I happen to enjoy doing this artwork. It amuses me greatly. If any bloggers want my work and want to spread it around, I will be charmed, to say the least. All I want is credit and my URL so people come here, too. This is how we all help each other. I want this stuff passed around, a lot.
Just don't pretend to be the creator!
And feel free to use my email, I am a very gregarious person, on line. I love hearing from everyone. And seeing things grow bigger and bigger. We all want to grow together. And I can produce literally a ton of art and cartoons nearly effortlessly. I see a picture, I see the cartoon almost instantaneously.
Thanks in advance!
Regards,
Elaine Meinel Supkis, editor of Culture of Life News.
UPDATE:
Earl's great blog
. Do visit him, we had a misunderstanding. He has a really nice blog and I really recommend his page,
Logan Square, Chicago.
Here is a sample from his article, I am including the picture because I do believe I have played in this park when I was very young! My, oh my.
Olson Rug Co. was established in 1874. The manufacturing mill was located in Chicago at Diversey Ave. and Pulaski. During the World War II era, when raw material was scarce, people would send in their old wool rugs, rags, clothing etc. and Olson Rug would turn them into a beautiful area rugs. The family owned business was "the place" to buy rugs for many years. Alongside the factory was the renowned Olson Memorial Park. Walter E. Olson built the 22 acre park in 1935. One of the main reasons for building the park was to keep the Olson employees working and receiving paychecks during the dark days of the Depression.

The project took nearly six months to complete. About 800 tons of stone and 800 yards of soil were used for it's construction. Approximately 3,500 perennials were used along with numerous species of junipers, spruces, pines, arbor-vitaes and annuals. The park consisted of a stunning rock garden, duck pond, a 35-foot waterfall and debris from the Chicago fire.
A must read if you ever hung out in the Windy City.