Welcome to Culture of Life News Guest Blog!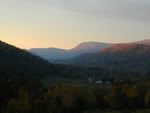 The view from my front deck.
This is where guests to our blog can run extended articles or conversations. Some of the postings under various stories are long and detailed and it would be a shame to not give them proper airing. To post an article here is very simple:
Contact me at
emeinel@taconic.net
or post it at the comments section in the opening page of this news site and I can transfer it over to the guest blog. If a poster has trouble with HTML coding, don't let that faze you, it is a pain to do. I do it so much it is second nature so all you have to do is give me the URL and I can do all the coding. This includes pictures. If you want a picture set up, pull it into the email and it will appear usually as code ending in jpg. I can code it so it appears. If it is too big, I can shrink it, etc.
So don't be shy! Everyone is very interesting.
I really like stories from at work or school or something in the news that reminds you about something important at home. Breaking news or interesting news about energy or technology or finances is greatly appreciated! I don't watch TV so interesting stuff from there is also an addition to this news blog.
Each time I get a posting, I will put it on the main page with one paragraph describing it and a link that can be clicked. If there are any bugs in this set up, please tell me.
Thanks in advance,
Elaine Supkis, editor of Culture of Life News.